These days, I think it's easy for fans to get caught up in fantasy football and think of us players as merely stats, sometimes forgetting that we are human. But we are real people … real people with dreams and aspirations. We are more than football players.
So I wanted to write this blog about something unrelated to football that's important to me so I could give readers a glimpse into who I am and what I aspire to be off the field. This topic is especially close to my heart these days since I just had an amazing experience giving back in Flint, Mich., thanks in large part to my passion off the field.
Football is a huge part of my life, of course, but I am also a dedicated entrepreneur. Our company, ShowerPill, was born about five years ago when I was playing in Seattle. It started from an idea that two of my friends and former Cal teammates, Wendell Hunter and Wale Forrester, and I had because we saw a need.
Hold up, let me tell you what ShowerPill is first. Short version: it's a disposable wipe that works like a washcloth to clean your body and kill 99.99 percent of all germs instantly. I'll tell you more about it in a sec, but let me get back to where it all started.
During college, when we had VERY long days of workouts (with classes and studying in-between), our trainers gave us all kinds of support for our bodies. If we needed hydration, we'd have Gatorade. If we needed a snack, it would be a Clif Bar or PowerBar. If we needed protein, they'd give us Muscle Milk. There's a supplement for everything, but nothing for cleanliness.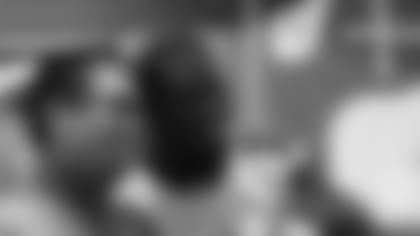 Of course we showered as much as possible, but nobody is taking five showers in one day. And with the amount of stuff we were doing, sometimes it felt like we needed 10 showers! We'd wake up early to work out, run and lift, then go off to class and sometimes head to the training room for rehab after that. So if you didn't have the time to shower, you're left with a long period of time accumulating sweat and bacteria. That's just not healthy. Not to mention, if you're walking on campus, and you want to interact with a nice girl, you don't want to smell like a bag of trash! One of my partners almost died in college from a bacterial infection that could have been prevented. Throughout the NFL, you hear about outbreaks of things like ringworm and staph infections all the time. Cleveland had it a while back. I remember Tampa had an outbreak. And it pops up everywhere throughout colleges.
We knew there was a need to prevent this, and we wanted to create something that would allow us to stay fresh, clean and healthy. Our answer to this problem was ShowerPill, the "supplement" you can "take" to prevent the health issues that can show up as a result of sweat and heavy activity. The name "shower pill" has always been around in football. Even back in the day, in the locker room after a long day of workouts, guys would say they wish they could take a magic "shower pill" and instantly get clean. It was an inside joke in the locker room. That's where it started.
So we began putting the wheels in motion. We put our own money in and officially started the business about five years ago. It was a lot of work, especially for my two partners who did (and still do) a lot of the heavy lifting, particularly when it came to research, manufacturing, all the way down to the design of the box. When we first produced the product, we gave a whole bunch of wipes away. I remember after practice in Seattle, I would go out to local stores like a salesman. It wasn't Justin Forsett, the football player. It was Justin Forsett, the business owner trying to get his product picked up in stores. We went all over the league sharing these with NFL players.
Just to be clear: these are not deodorant wipes. It's not like how after sweating in middle school gym class, you'd spray some deodorant all over and go straight to math class. This actually kills germs and can prevent infection. It's perfect for athletes who don't have time to take multiple showers in one day. It's been useful for people who are post-surgery and aren't able to get certain areas wet in the shower. It's also been useful for those in the military, who are out serving and don't always have access to a shower. Soccer moms love to wipe down their kids before they get in the car after practice to make sure they aren't tracking the germs from the field into their car and home. It's great if you're camping. The CrossFit community has also been huge for us, especially for those who work out during lunch and don't have a place or time to take a shower before returning to work. And some people just like to feel fresh all day! It's not meant to be a replacement for a shower, just a useful tool if you don't have time or a place to shower at that moment.
I'm proud to say that ShowerPill is sold at a number of boutique vitamin shops throughout the country, as well as through our web site* *https://showerpill.com/. We are the top body wipe on Amazon, and we are used at many college sports teams (Cal, Baylor, SMU, Houston, to name a few). We've done some work with the Bills, Jaguars and Seahawks. I haven't placed it in the big team bucket in the Ravens locker room yet, but guys know about it. Guys come to my locker and grab wipes all the time, but I haven't done a deal with the Ravens.
Today, my role is really focused on the social media and marketing work for the company. I still go out and introduce the product to different gyms and athletes, but the brunt of the work falls on the other guys. This summer, I'll be training in Berkeley, where the other guys live, so I look forward to getting a lot of work done with them.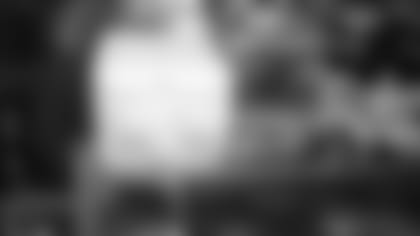 Most recently, with the support of my NFL brothers, we were able to donate $100,000 worth of wipes and water to schools and senior homes in Flint. Torrey Smith and I went out there a couple weeks ago to help with distribution and talk to the people in the community affected by this crisis. It was an incredible experience, and I'm so blessed to be in a position where I'm not only pursuing my passion as an entrepreneur, but that it's also allowing me to make a real difference.
This business venture has also been a great learning experience. It's been helpful learning how to communicate with people. I remember going to Norfolk, Virginia and speaking to several military branches at a conference. I was able to present and pitch our product. You only have so much time with people, and you never know who you are going to run into, so you have to make sure every word counts. The ability to do that will help me in other ventures down the road as well.
I'm glad to say that the business, which is growing, has been successful so far. We've learned a lot throughout the process and definitely had some challenges to overcome, especially during the first couple years. One major lesson and aspect has been making sure we are as efficient as possible. We put our own money up, so there is a limited supply and you have to be smart with it. We don't really have a marketing budget, so we do things like giveaways and ask bloggers to review the product. We also learned that this business is all about partnerships and our goal is to partner with the major brands in our market to provide great products to the athletic/active consumer. Another one of our priorities is to serve the next generation. Of course we'd love to have a huge company, but our emphasis is about serving others … and that's what I love about it. My dream is to create a business that allows me to not only provide consumers with a quality product, but to also be able to create jobs and teach others. As a pro athlete (and the same goes for entertainers), you get all sorts of people pulling at you and wanting something. I want to be in a position where I can teach them how to fish as opposed to giving them fish, as they say. That's the kind of mentality that I've had. And so far, I think I'm on the right path.