Cover Story: No. 1. Rashod Bateman Is Ready to Be HIM
After a tantalizing rookie season played at 75% health, Rashod Bateman and his teammates expect a monster season.
---
---
You know you're on your way when you have a good nickname, and Rashod Bateman has a good nickname.
"I love it," Bateman said with a smile after a hot day at Ravens training camp.
"People tried to call me that when I was in Minneapolis, but Minneapolis is not really the place for Batman. Coming to Baltimore, you get that grimy Gotham City feeling for sure here in Baltimore. I really embrace it now."
The Ravens traded another nicknamed wide receiver this offseason in Marquise "Hollywood" Brown to Arizona for a first-round pick. Now it's Bateman's time to throw on the cape.
Baltimore has long yearned for a superstar wide receiver. There have been success stories over the years, but Ravens fans are quick to point out that the organization has never had a wide receiver go to the Pro Bowl (as a wide receiver).
Brown was arguably the best wide receiver the Ravens ever drafted, alongside Super Bowl winner Torrey Smith. Smith was the first homegrown wide receiver to top 1,000 yards in a season and helped lift the Ravens to their second Super Bowl. Last year, Brown became the franchise's second drafted 1,000-yard receiver.
As the Ravens travel to Arizona and Brown's new home this weekend for their second preseason game (Brown and likely Bateman won't play), the Ravens go with a new unquestioned top wide receiver. But is Bateman the true No. 1 fans have been waiting for?
"Going into the offseason, it definitely hit me that I am him," Bateman said. "I am who I say I am. I know what I'm capable of."
'I Like to Live Up to My Expectations'
There were five receivers drafted in the first round of the 2021 NFL Draft. Bateman was the last – No. 27.
It took so long to hear his name called that Bateman fell asleep on draft night. His brother woke him up at pick No. 25. Bateman thought he was going to the Green Bay Packers at No. 29; he was on the phone with them all day long. Then the Ravens swooped in.
Bateman went from teaming up with Aaron Rodgers and Davante Adams to pairing with Lamar Jackson and Brown. No shade on Rodgers, but he's happy to be with Jackson.
"Aaron Rodgers has had his time," Bateman said. "There's so much disrespect on Lamar's name that I kind of want him to win a Super Bowl more than I do."
But before Bateman knew his NFL destination, he said he felt down on draft day. As his family and friends were in his home to celebrate, Bateman had a different vibe.
"I'm just going to say it. I'm better than the receivers that were taken before me," Bateman told teammate Marlon Humphrey on Studio 44. "At least I think I'm better than the receivers taken before me."
Bateman wasn't the only one who felt that way. NFL Network's Mike Giardi was hearing the same before the draft.
The four wide receivers taken ahead of Bateman were Ja'Marr Chase (Bengals), Jaylen Waddle (Dolphins), Devonta Smith (Eagles) and Kadarius Toney (Giants), respectively. Chase, Waddle and Smith were all picked in the top 10. That lit a fire in Bateman.
When Baltimore drafted Bateman, their second first-round receiver in three years, Bateman imagined he and Brown would be together for a long time. But he didn't imagine himself as Brown's sidekick.
"In my eyes, last year Baltimore had two No. 1 wide receivers. They didn't just have one," Bateman said. "My expectations for my rookie year were to go ball out."
Bateman had a spectacular rookie summer in OTAs and minicamp. He said he never felt more like a complete receiver than he did that summer leading into training camp.
Then, just a few days into training camp, he crumpled to the turf. Bateman suffered a core muscle injury, which team doctors ultimately decided would be best addressed with surgery that would sideline him for the first month or so of the season.
Bateman missed the first five games, a shot to his early development and challenge to his mental toughness. He could feel doubts bubbling to the surface.
Ravens fans had seen first-round wide receiver Breshad Perriman miss his entire rookie season in 2015 due to a lingering knee injury and never get on track in Baltimore. Nobody was saying Bateman was headed for that, but he felt he hadn't yet proven himself to his teammates or fans.
"I've never really got injured before and I think that energy kind of stopped me," Bateman said. "I felt like I had let my teammates down, let the Ravens organization down. Those guys drafted me and they're expecting me to come and do those things. I like to live up to my expectations, no matter who it's coming from. We all knew that, if it wasn't for the injuries, we would have been in the Super Bowl last year. I don't care what anybody says. I just felt like, I let my team down."
Bateman said his "vibe" wasn't good as he dealt with the injury. When he came back, he wasn't totally right physically or mentally.
"He missed a lot of the game-to-game installation and details of how we're going to attack a certain defense or attack a certain DB. He came back midway through, and it was like, 'OK, he's back, go in and play,'" Wide Receivers Coach Tee Martin said. "He was out there playing. He had some mental mistakes early. He went from having three or four a game to having one, and then to none."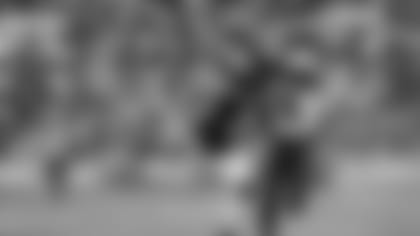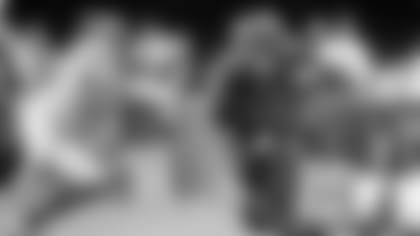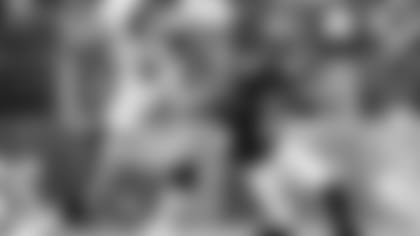 At the same time, it also took a while to work through the pain of the abdominal surgery. Even Humphrey could tell the difference.
"When he came back, I'm not going to say he wasn't good, but he just didn't seem the same like he was pre-injury," Humphrey said.
"Last year I was never 100%. I was maybe 75," Bateman explained. "I played because I wanted to. I kind of needed to. I knew that the only way I was going to get ready for this upcoming season was to go out there and play."
Bateman had several standout performances. He posted his first 100-yard game in Cleveland, hauling in seven of eight passes that came his way for 103 yards. Two weeks later, he scored his first touchdown in Cincinnati.
Bateman finished his rookie season with 46 catches for 515 yards and one touchdown. It wasn't what he had envisioned, but it was a launching pad.
"I think I showed flashes last year," Bateman said. "I proved it to myself that I could play in this league. Now I feel like I have to go prove it to everybody else."
While Bateman's rookie season showed promise, most of his first-round draft peers launched monster rookie campaigns.
Chase was the NFL Offensive Rookie of the Year after putting up 1,455 yards and 13 touchdowns. Waddle posted more than 100 catches and topped 1,000 yards. Smith logged 961 receiving yards.
There's no doubt that the Ravens got a good one in Bateman. Now that he's healthy, he can catch up and join the star ranks.
In 2019, Baltimore made "Hollywood" the first wide receiver off the board. He had a good rookie season, followed by a better sophomore campaign, then an even better third season. Brown was highly successful in his Baltimore tenure, but he's been overshadowed by some of his peers.
Deebo Samuel, A.J. Brown, DK Metcalf, and Dionte Johnson were all also drafted in 2019 and all have gone to Pro Bowls and landed mega extensions. Terry McLaurin isn't far behind. A payday is likely coming for "Hollywood" in Arizona, where he's hoping for even more opportunities after requesting a trade, but it hasn't yet.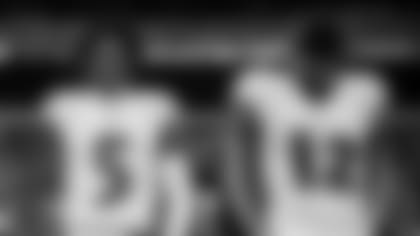 Bateman wants to follow a different script, and the Ravens would love for him to be in Baltimore for a long time. He isn't getting caught up in measuring up.
"I'm comfortable with who I am. I'm confident in the person and receiver that I am," Bateman said. "I'm not worried about what somebody else has going on. God has a plan for them. Everybody's story is different and I just have to write my own story."
Bateman's story took a drastic turn when Brown was traded. Bateman was at the Ravens' draft party when it happened. When he got back to his phone, it was flooded with messages.
"I feel like Baltimore drafted me for a reason," Bateman said. "They drafted me to be in this position. All respect to him, but it's my time."
Some of the first people Bateman reached out to after news of the trade were his teammates. He was now the alpha at 22 years old and with only a partial NFL season under his belt. He texted teammate James Proche II, asking how he should lead the young wide receiver group.
Bateman is a pretty chill guy, not a big talker. So he went about leading by example with the work he was willing to put into fulfilling his new role.
Martin said Bateman is the first guy into the building and meeting room. He's always watching tape, always asking for different things he can do – about releases, route-running, playing different positions.
"He's locked in every day and goes out to practice with the intention of getting better. He's not just punching the clock," Pass Game Specialist Keith Williams added. "He tells me to coach him as hard as I can and be as critical as I can. I don't have a problem doing that."
'He's Like a Big Bro to Me'
Even though he hails from Georgia, Bateman grew up a Pittsburgh Steelers fan, an unfortunate inheritance from his father. Bateman liked Hines Ward and Santonio Holmes.
When he grew older, Bateman was drawn to Odell Beckham Jr.'s flashiness on and off the field. In the last year of college, when it was clear he was pro ready, Bateman switched to another wide receiver.
"The one guy that I study is Davante Adams. I got no choice," Bateman said. "It's very hard to put hands on him. When you watch his tape, it's like he does the most simple stuff to get open but he does it so well. He's that."
Bateman nearly played with Adams in Green Bay. In Baltimore, he's got the next best resource. Williams was the person who "discovered" Adams as a high schooler in California and recruited him to Fresno State. Before he joined the Ravens, Williams was also Adams' personal wide receivers coach.
Adams boomed in college and was drafted early in the second round by the Packers. Adams wasn't an immediate superstar. He posted 446 yards as a rookie and 483 as a sophomore – both lower than Bateman's rookie output.
Since then, however, Adams has become one of – if not the – best receivers in the game. This offseason the Las Vegas Raiders traded their first and second-round picks in the 2022 Draft for Adams.
Williams put Adams and Bateman in touch and the two have become friends since. Bateman studies Adams' game a lot on film. When Bateman was going through his challenging rookie season, Adams would check in on him often. This offseason, they talked some about different routes.
"He's definitely like a big bro to me, somebody I look up to and somebody I can learn a lot from," Bateman said. "It's definitely good to have someone like that in your corner.
"He's somebody to look up to in your field, who carries himself professionally on and off the field, while also killing the game. It's hard not to say he's the best right now. I study him a lot."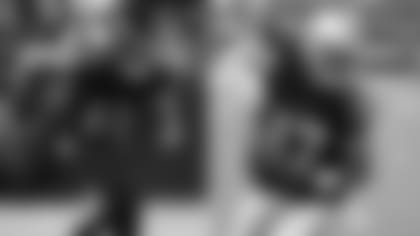 Adams said he and Bateman were trying to get together this offseason in-person but it didn't happen. Still, they kept in touch.
"Anybody that's always looking to get better and looking to do the right thing, it's always easy for a guy like to me to teach. I like to think of him as an open vessel. He just wants to learn. He wants to keep getting better. It's easy for me to want to lead somebody like that," Adams said.
"He definitely shows flashes of a receiver that's going to be great. I think his attention to detail is the highest that it's been since I've known him. He's trying to apply all the things that he needs to strengthen his game."
Adams is known around the league primarily for two things: his route-running and his releases. Press Adams and he's quickly behind you. Give him cushion and he'll run right by you or twist you with a nasty route. Either way, he's a blur, and that's exactly what Bateman aspires to be.
"As a receiver, my mindset is to not let anybody touch me," Bateman said. "Receivers are the 'pretty boys' and they don't like to get touched. That's me. I don't like to get touched. If the DB can't touch me, that means I'm open. If I've got the ball in my hands and nobody is touching me, that means nobody is around me, I'm open."
Humphrey recalls covering Adams in 2017 during a game at Lambeau Field. Humphrey was a rookie. Adams was in the midst of his first Pro Bowl season. Even though Brett Hundley (not Rodgers) was at quarterback, Adams still went off for eight catches and 126 grabs. There was a slant route on Humphrey that he's still confused by how quickly Adams got open.
In Baltimore, Humphrey has been the main person stepping in opposite Bateman. Their one-on-one matchups have been must-see at training camp, and Humphrey sees shades of Adams.
"I see similarities a lot in the quickness at the line of scrimmage," Humphrey said. "When I look at wide receivers, they are good at really one main thing that makes them elite. Bateman has some similarities to those quick guys at the line like Keenan Allen or Davante. That's the hardest thing to cover."
Williams, who has coached Adams for many offseasons, sees some similarities too.
"He moves real fluid like Davante, just his natural movement pattern," Williams said. "The wideout fundamentals and his movement pattern, physically, is similar to Davante."
But for Williams, the biggest commonality is in their mental approach to the game. Williams and Martin both talked about how locked in Bateman is. That focus is something special, they say.
"I tell people this all the time. One of Davante's biggest attributes is he seizes the moment," Williams said. "If it's press and you have a go route, now's the time for great technique. We need whatever you've got and we need it right now. Davante is a master at that. When you're that locked in and those moments come, you're like a pit bull.
"I see that in [Bateman]. He's looking for those moments. He's working for those moments and looking for those moments. He's still young and has [ADD] a lot of work to do, but where he's at, he's in a good place."
Adams didn't become a Pro Bowler until his fourth season, when he logged 885 yards and 10 touchdowns. He didn't post 1,000 yards until his fifth year. As much as everybody wants instant stardom from high, promising draft picks, it also can take time. Adams' advice for Bateman as he steps into the lead role in Baltimore was simple: stay locked in.
"Just keep chasing yourself trying to be a better you," Adams said. "Don't try to be anybody else or try to be a No. 1 or whatever it is. Just practicing hard and taking this serious and everything will take care of itself."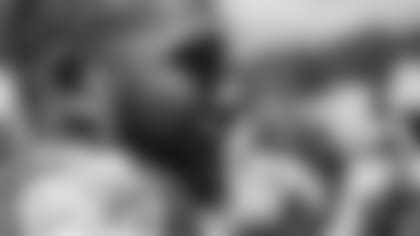 'A Calm, Confident Swagger'
While Bateman looks up to Adams, he's also uniquely his own man. Bateman is an interesting blend of humble roots and flashy future.
Growing up in the small town of Tifton, Ga., with a single mother, Bateman's family didn't have money to spare. Now he drives a sports car and is very into fashion. He has plans to launch his own clothing brand this fall, once he's proven himself more on the field he said.
"I couldn't afford clothes young, so now I'm going to go crazy with it," Bateman said.
Bateman oozes confidence, the kind of "swag" that the best wide receivers possess. In order to be the best, you have to believe you're the best.
"Rashod does not lack confidence," Martin said. "But it comes from a competitive place. That's what's different about him that I like. It's not fake."
"He's confident because of the work he puts in. It's not any fake bravado," wide receiver James Proche II added. "Wide receiver 1. That boy's special. You're all going to see this year. He's different."
Tight end Mark Andrews called Bateman's demeanor a "calm, confident swagger."
"It's verified just by the way he plays. He's very smooth on and off the field and he's only going to come more into his own," Andrews said. "He's worked really, really hard. He's catching the ball incredibly well. He's tracking the ball really well. His releases are incredible. It's going to be a big year for him."
The Ravens offense is built around Lamar Jackson and a strong running game. Yet there is still plenty of room for a wide receiver to thrive. Brown had the 10th-most targets in the NFL last year (146). Considering the Ravens haven't added another wide receiver to the roster, a lot of those targets will come Bateman's way this season. It's on him to make the most of them.
"Being here, we had some guys that could be wide receiver 1s, but I feel like he's a true wide receiver 1," Humphrey said of Bateman.
Bateman has heard all about the Ravens' history with wide receivers and knows there's a lot of hope that he can break through that wall. But he says he's not thinking about all that – not one bit.
"I'm sorry to say this, but that ain't got nothing to do with me," Bateman said. "I stepped in when my time was called. I know the history and obviously I want to be better than any other receiver that played here, but I'm going to let the chips fall where they fall.
"I just feel like if I keep that mindset, if I keep going, just being who I am, I think everything will fall into place. I won't be perfect, but I promise I'll get a lot of shit done."