Cover Story: The Oweh-Ojabo Brotherhood
Odafe Oweh and David Ojabo became best friends in high school and are teaming up again in the pros.
David Ojabo had just finished basketball practice when he knocked on Jim Saylor's office door at Blair Academy, a boarding high school in New Jersey.
Ojabo was an ultra-athletic but middling basketball player. Saylor was the head football coach, and he was juggling a flood of Div. 1 scholarship offers for Ojabo's friend, Odafe Oweh (then Jayson), who had a year earlier made the switch from basketball to football. 
"Coach Saylor? My name is David Ojabo," the lanky high school sophomore said, standing in the doorway. "I'm stronger, faster, tougher than Jayson. Do you mind if I try playing football?"
Saylor turned to another coach sitting nearby and gave him a look. Ojabo was a 6-foot-4, 220-pound kid at a school with 400-some students. The answer was an obvious yes.
That was the start of Ojabo's football career. Six years later, Ojabo and Oweh are still together – both in the NFL, both Ravens, both outside linebackers, both with the goal to carry Baltimore's pass rush. Together.
There's a race to the quarterback in Baltimore, not just between high school teammates, but between brothers.
"It seems like a movie. You're like, 'Ain't no way. For real?'" – David Ojabo
'He's Not My Friend. He's Really Like My Brother'
At Blair Academy practices, Saylor would remind Oweh about Ojabo's boastful comment about being more athletic. Just typical coaching fodder to motivate a player.
It didn't bother Oweh. After all, he had given Ojabo the script. Oweh essentially told Ojabo to fake it till you make it.
"I was like, 'Bro, play football! You're faster than me and you have good size,'" Oweh said. "'You're a great athlete. You can learn this stuff on the fly like I did.'"
Ojabo felt like he had to give Saylor a sales pitch to join the team. The best way was to lead with his trump card – his athleticism.
"Honestly, I was just trying to keep him from asking me if I knew anything about football," Ojabo recalled. "If he asked me some football questions, I was done."
Ojabo was born in Nigeria to Victor and Ngor, the middle of three children. When David was 7 years old, the family moved to Aberdeen, Scotland for his father's job. Ojabo grew up playing a wide variety of sports, none being football. Soccer and basketball were his two main interests, and he was one of the top players in Scotland. But Ojabo had bigger goals. He looked up to LeBron James and Kobe Bryant and wanted to go to America to test his skills.
So, at 15 years old, Ojabo made the decision to leave his family and chase his hoop dreams. His parents told him he had to get straight A's first, so he did. Ojabo's older brother helped him make a basketball mix tape (shown below) that Ojabo emailed to half a dozen high schools. Only a couple schools replied and one was Blair Academy. So off he went, across the ocean and into the unknown.
"I'm a momma's boy," Ojabo said. "It was tough, man. But my dream came first. I made a decision. I had to put my emotions to the side and just work."
When he arrived on the Blair Academy campus, it didn't take long for Ojabo to meet Oweh, who is one year older and one grade level ahead. They were two big, athletic Nigerian kids in the same dorm on a small boarding school campus. They instantly hit it off, in part because of their shared background.
Oweh's parents, Henry and Tania, both grew up in Nigeria. While Oweh was born in New Jersey, his African heritage was a central part of his upbringing. It's why, when drafted by the Ravens and surrounded by his family, Oweh declared that he wanted to stop going by his middle name, Jayson, and embrace his given Nigerian name, Odafe.
Ojabo's first impression of Oweh was that he was kind of quiet, like him, but that when Oweh spoke, he spoke wisdom. Oweh's first impression of Ojabo was that he was a funny dude. They talked about family, hung out, played ping-pong and billiards – typical high school stuff. They would have hung out more, but Oweh had a girlfriend, which still makes Ojabo smile and roll his eyes.
Oweh helped Ojabo adjust to life in America, gave him tips for his style and haircut. Oweh brought him Nigerian food from his mother's kitchen and took him home on Sundays to go to church and have dinner with his family. That taste of home is "what kept me alive," Ojabo said.
Ojabo had to accept that he was only going to be able to go back to Scotland about once a year. He remembers one time when he almost pulled the plug though. The power went out on Blair Academy's campus and everybody local went home. Ojabo broke down crying.
"He was quickly like, 'Nah, you're with me. You're coming to my house,'" Ojabo said. "He treated me like family. He's not my teammate. He's not my friend. He's really like my brother."
Like Ojabo, Oweh had hoop dreams, and his were a little more realistic. Oweh only played football because Saylor told him he had to play two sports to gain admission to the school. But after Oweh had near instant success on the football field as a junior and the college offers poured in, he made the switch. Ojabo took notice. That's when Ojabo knocked on Saylor's door.
"I was like, 'If he's doing it, I can do it too!'" Ojabo recalls. "If God was sending me a sign, it was Odafe. Follow him. I literally did everything he did."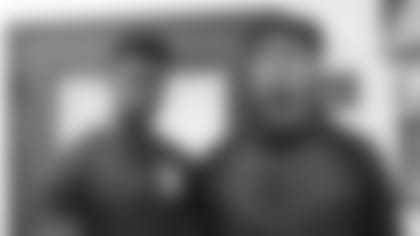 "Put your pride to the side. The answer's in front of you. Literally, follow the leader." – David Ojabo