Cover Story: Tyler Linderbaum Prepares to Conquer Next Big Challenge
Tyler Linderbaum has triumphed over bigger guys his entire life, and enters the NFL determined to excel and quiet any concern about his size.
---
---
Tyler Linderbaum loves knocking down big challenges.
The top center in this year's draft is expected to solidify the starting center position for the Ravens as a rookie and for years to come.
The Ravens had never drafted a center in the first round until they traded up and called Linderbaum's name with the 25th-overall pick. They are banking on him to excel in the trenches as a rookie, even after he missed valuable weeks of practice during training camp with a foot injury. Linderbaum, who returned to practice Aug. 19 and has steadily increased his activity, participated in team drills Thursday.
Linderbaum plans to have a long run as the Ravens' starting center, yet he knows some people wonder if his size will prevent him from becoming the dominant player he was in college. He was the smallest offensive lineman in the 2022 NFL Draft, measuring at 6-foot-2, 296 pounds with arms that are 31 1/8 inches long – more than an inch shorter than the average NFL center.
He's the Ravens' lightest and shortest offensive lineman, easy to spot when the massive offensive line group takes the field for practice. Yet, Linderbaum couldn't care less. It's another obstacle he plans to knock down.
"There's always going to be doubters," Linderbaum said. "But I listen to people I trust, the people I want to surround myself with. Those are the opinions that will matter. At the end of the day, I know I'm going to give everything I can to this team. I couldn't ask for a better situation."
A Bulldog Mentality
Ask Tristan Wirfs, the Buccaneers' All-Pro right tackle, if Linderbaum is too small.
Wirfs and Linderbaum squared off in a heavyweight match that people in Linderbaum's hometown of Solon, Iowa still talk about. Wirfs was already a man-child in 12th grade, a physical specimen who was a five-star recruit headed for Iowa. Linderbaum was a good wrestler, but he had never beaten Wirfs while wrestling against him for three years.
They met for the final time in their 12th grade regional match, with a birth in the state tournament on the line. Wirfs was the heavy favorite, but Linderbaum didn't care. When Wirfs tried to throw Linderbaum late in the match, Linderbaum was ready. He made a quick countermove and pinned Wirfs with six seconds left to win the match.
The gym went crazy and Linderbaum let out a guttural scream, perhaps as animated as you will ever see him.
Why did Linderbaum believe he could beat Wirfs when others didn't?
"That's a good question," Linderbaum said.
"I know that every time I lost to him, the bad taste in my mouth got worse. That's how it always is. When I lose at anything, I can't stand the taste."
As a toddler, Linderbaum wouldn't back down from anyone. His brother Logan is 3½ years older, but when he played sports, he couldn't keep his kid brother out of the action with older kids.
"I wanted to be like Logan, and I wanted to beat him," Linderbaum said.
Logan and his friends showed no mercy, and Tyler showed no quit. Knock him down, he'd get back up. Sometimes the Logan-Tyler battles continued at home and their father had to intervene.
"Let's just say there were times when you felt the house shake," said Todd Linderbaum, Tyler's father. "They cared for each other, but I would say it was pretty intense."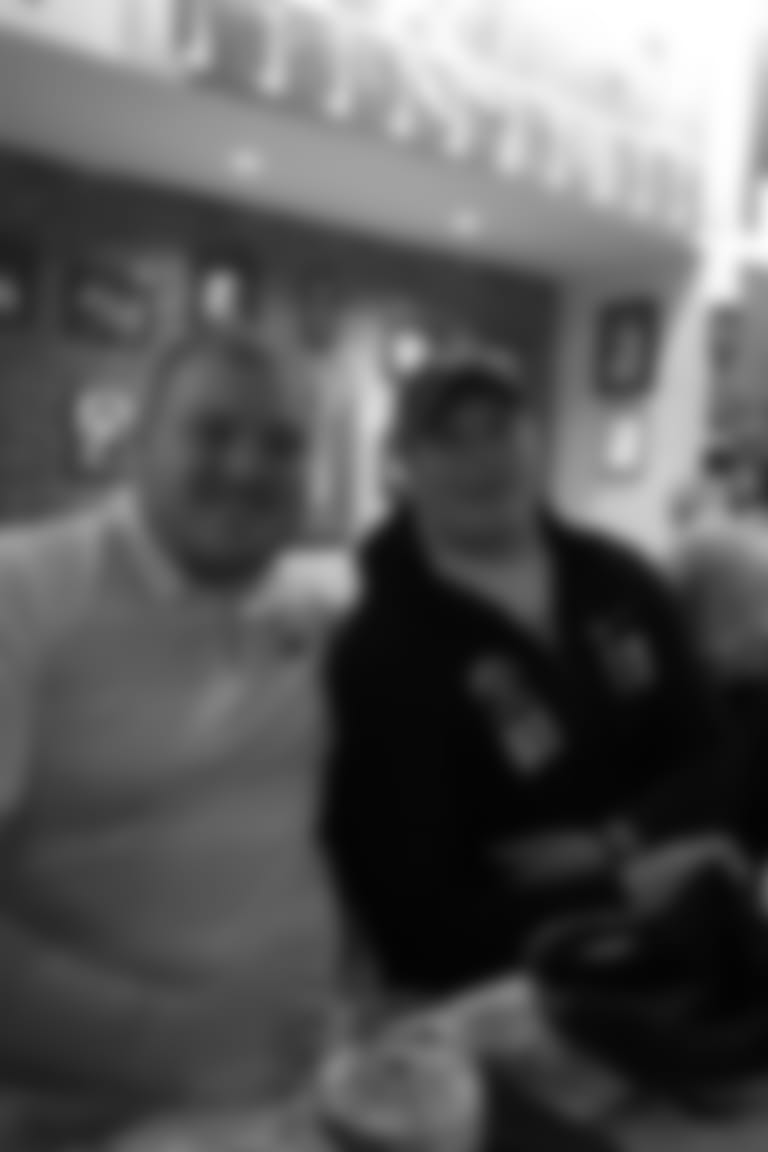 An Iowa Legend
That intensity helped Linderbaum become a legend in his hometown of Solon, population 3,018. He was a unanimous All-American at Iowa, winner of the Rimington Trophy – fulfilling his dream of playing college football at Iowa after growing up 15 miles from campus.
Along with his athletic accomplishments, Linderbaum was known for his good deeds. He is Solon's favorite son, the smalltown kid with the big heart. Last December, he used his college NIL revenue to donate $30,000 to the Iowa Stead Family Children's Hospital.
"I really don't remember where the idea to make the donation to the hospital came from," Linderbaum said. "But I knew I wanted to give back."
Linderbaum began at Iowa as a defensive tackle, but he switched to center after his freshman year. Iowa Offensive Coordinator Brian Ferentz, son of Iowa head coach and former Ravens offensive line coach Kirk Ferentz, thought playing center would bring out Linderbaum's best.
"He would have been a really good defensive lineman, but I don't know if he would've been a first-round draft pick," Brian Ferentz said. "Part of what makes Tyler special is his makeup. He's going to make other guys better. And he's going to make your offensive line tougher."
Linderbaum originally didn't want to switch from defensive line to center. But once he made the move, he attacked it.
"I had no idea what I was doing at center at first," Linderbaum said. "I played there in high school, but at the college level it's different. I really had to work at it. That offseason, there weren't many days when I didn't snap the ball."
Linderbaum became an athletic bulldozer nimble enough to throw two or three blocks on the same play. He has traits similar to Jason Kelce of the Eagles, (6-foot-3, 295 pounds), who has used his quickness, smarts, and technique to become a six-time Pro Bowler.
While mild-mannered off the field, Linderbaum is a tiger in competition. During the Holiday Bowl in 2019 against USC, Ferentz called three consecutive quarterback sneaks against the Trojans from the 11-yard line. Why? Because Ferentz because wanted to watch Linderbaum dominate the defensive tackle in front of him.
"That's probably why some people don't like me as a play-caller," Ferentz said, laughing. "The game was going in a way where I wanted to keep our defense off the field. When we got down to the 11, I figured we could punch it in from there. We got down to the 1-yard line on three sneaks, then ran off tackle for the score. Tyler was right in the middle of all of that. On the second sneak, he took a guy like eight yards downfield and deposited him."
Linderbaum was a team captain at Iowa who was revered by teammates. He must be prodded to talk about his accomplishments, and his father says his son has always been someone who does things without boasting.
"When you meet him for the first time, you'll get a read on him that he's pretty genuine," Todd Linderbaum said. "Someone who cares a lot about people."
Linderbaum had another year of eligibility remaining at Iowa, and he wrestled with his decision to declare for the draft. Ferentz thinks Linderbaum made the right decision, but the Hawkeyes already miss his presence.
"When he told us he was leaving I was so happy for him, but we were in my office with tears in our eyes," Ferentz said. "One of the toughest things about the draft process is, when you're a great college player everyone says you're great. But as soon as you enter the draft, it's the NFL's job to find anything that's wrong with you and the media follows suit.
"Nobody was saying Tyler is too small until the pre-draft process. Nobody will be saying it two years from now."
Blossoming in Baltimore
Linderbaum plans to reward the Ravens for having faith in him. His personality is similar to the Ravens' last offensive lineman from Iowa, Marshal Yanda, an eight-time Pro Bowler and potential future Hall of Famer. Yanda gave his all and gave opponents hell. Linderbaum plans on doing the same. 
"I just hate being physically dominated, and I hate to lose," Linderbaum said. "That's the thing I liked about wrestling in high school. You had nobody else out there except the guy you're going against. Either you get the job done, or you don't. If you get your butt whipped, everyone's going to know you got your butt whipped."
Delivering in big moments was part of Linderbaum's DNA at Iowa. The bigger the game, the better he usually played. When he faced the top defensive linemen, his game went to another level.
Already, Linderbaum has shown how quickly he learns. At the start of rookie camp, Offensive Coordinator Greg Roman introduced Linderbaum to the Ravens' entire playbook and expected him to master it pronto. Roman said he wanted Linderbaum "to be laying in bed shaking every night, worried about the next thing."
Roman is impressed with how quickly Linderbaum accepted the responsibility of being thrust into a starting role on a team with Super Bowl aspirations.
"We've thrown as much at him as possible, put him in there as the starting center from Day 1," Roman said.
"We really tried to shock him mentally in the spring. Now we're taking more of a step-by-step building process with him. Things are settling down for him. He's really handled it well."
Linderbaum has quickly earned respect from his teammates. During mandatory minicamp when Lamar Jackson threw a pass that was intercepted by Daelin Hayes, one offensive lineman gave hot pursuit as Hayes was returning the interception toward the end zone. It was Linderbaum. Jackson noticed, and when asked about that play, he smiled.
"My center, Tyler, was getting after it," Jackson said. "He was running him down. He's fast as heck for a center. He's a football player."
Overcoming Size With Leverage
Linderbaum won't have the physical advantage over NFL tackles that he had over most college tackles. He has already gotten a taste of that during training camp, battling with Ravens 345-pound defensive tackle Michael Pierce. On some reps, Pierce has been an immovable object for Linderbaum, but he is enjoying their battles.
"I don't think I've seen anyone like him, to be honest," Linderbaum said. "He's a great player, but I'm in the NFL now, so you're going to see a lot of players just like him, at his skill level, so I'm looking forward to it."
"Just because you're a smaller guy doesn't mean you can't play, or you can't hold up against people," Pierce said. "This game is leverage, this game is really just want-to."
So how will Linderbaum win week to week against the NFL's most powerful defensive linemen? With technique and smarts.
"The game of football is all about leverage," Roman said. "Every scheme, every one-on-one battle, comes down to leverage. He's got good leverage, he's just got to use it. He's got to play with his cleats on the ground. He's got to play low, try to get up underneath people. You saw that at Iowa a bunch. Here, you've got to do it 100 percent of the time, or you could look stupid if you don't.
"I think he's going to be a Pro Bowl player. I've coached Pro Bowl centers in my time. It's a process. His movement skills are probably as good as you'll ever find. We can pull him, get him out on the perimeter if we need to. We can slip him through and chase down linebackers. His movement skills are off the charts. Now he's just got to learn how to play against the big hogs inside."
Logan knows his brother as well as anyone. He can't wait to watch Linderbaum do what he's done before – handle bigger guys.
"He won't come out and say it, but deep down he knows inside that he can play with anybody," Logan said. "He played in the Big 10. He played for Iowa, a great college program. He's ready for this."