Baltimore Ravens Community Programs
NFL Community Quarterback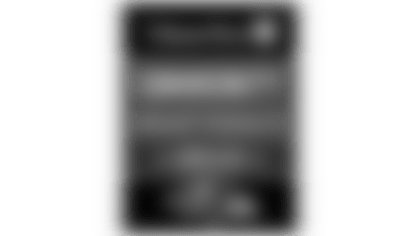 The Baltimore Ravens and the National Football League have teamed up to honor exceptional Maryland volunteers for their devotion to bettering local communities through the annual Community Quarterback Award.
Supported by NFL Charities and the Ravens Foundation, Inc., the award recognizes individuals who exemplify dedication, leadership and commitment to improving the communities in which they live. Volunteers ages 13 and over, who provide extraordinary services for nonprofit organizations, are eligible for the 2020 program. Charitable organizations are invited to nominate their remarkable volunteers for recognition, or individuals may nominate themselves.
Honorees were awarded with Ravens apparel and autographed memorabilia, a commemorative trophy and a financial grant benefiting their respective nonprofit organization.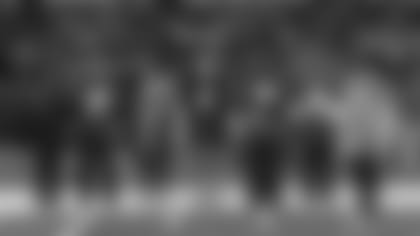 2021 Community Quarterback Award Winners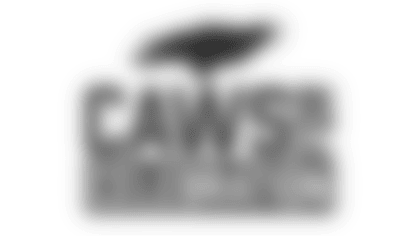 NEW FOR THE 2022 SEASON!
Caws for Celebration give Ravens' fans the opportunity to see their name in lights at M&T Bank Stadium!
Perfect for birthdays, anniversaries or any special occasion (excluding proposals), "Caws for Celebration" allows fans to post a special message at a Ravens home game. "Caws for Celebration" can now be purchased online for $100 with all proceeds benefitting the Ravens Foundation. All "Caws for Celebration" messages will be displayed on two of the upper deck video boards during halftime.
Leidos Teams With Baltimore Ravens to Tackle Addiction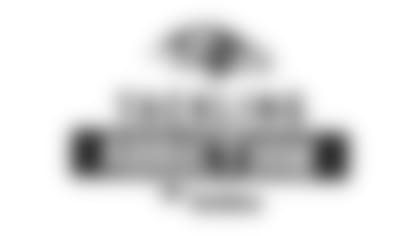 Leidos and the Baltimore Ravens have teamed up this season to spread awareness about the ongoing addiction epidemic through a new "Tackling Addiction" campaign. For every tackle made by the Ravens during the regular season, Leidos and the Ravens will donate $50 towards the purchase of drug disposal packets and supporting Baltimore-area nonprofit organizations united in the fight to keep communities safer and healthier. For every interception and fumble forced by the Ravens defense, the organizations will donate an additional $1,000 each.
Toyota Community Touchdowns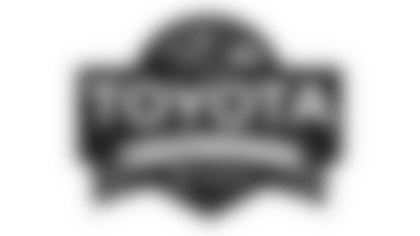 Toyota and the Baltimore Ravens are teaming up for the Community Touchdowns program. For every touchdown scored by the Ravens this season, Baltimore Area Toyota dealers will donate $500 to the Kennedy Krieger Institute, the world's premier institution dedicated to improving the lives of children and young adults with care and research focused on pediatric developmental disabilities and disorders of the brain, spinal cord and musculoskeletal system.
Honor Rows Presented By M&T Bank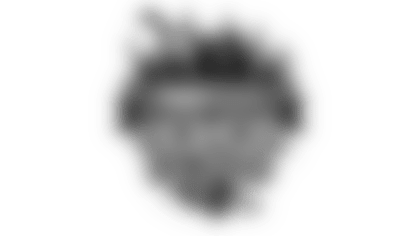 During each Baltimore Ravens home game throughout the 2022 regular season, the Honor Rows program saluted youth who provide outstanding service to our communities. Honorees were selected by a panel of youth service leaders, with the assistance of Baltimore Ravens, GOSV and M&T Bank staff, and received:
Up to 100 tickets per group to attend a Baltimore Ravens game at M&T Bank Stadium
"Honor Rows" T-shirts
Official in-game recognition of honorees on RavensVision
Segment on WBAL TV-11
2022 Honor Rows Recipients
Adopt-a-Block (state of Maryland)
Baltimore Area Council, Boy Scouts of America (Baltimore City, and Anne Arundel, Baltimore, Carroll, Harford and Howard Counties)
Best Buddies in Maryland (state of Maryland)
Berlin Intermediate After-School Academy (Worcester County)
Boys Hope Girls Hope of Baltimore (Baltimore City and County)
Girl Scout Troops 3150 and 12046 (Charles County)
Level Up Inc. (Baltimore City and Cecil County)
Montgomery County Recreation, Youth Development (Montgomery County)
Old-Line 4-H Club (Harford County)
Volun-Teen (Baltimore City, and Baltimore, Cecil and Harford Counties)
Weave (state of Maryland)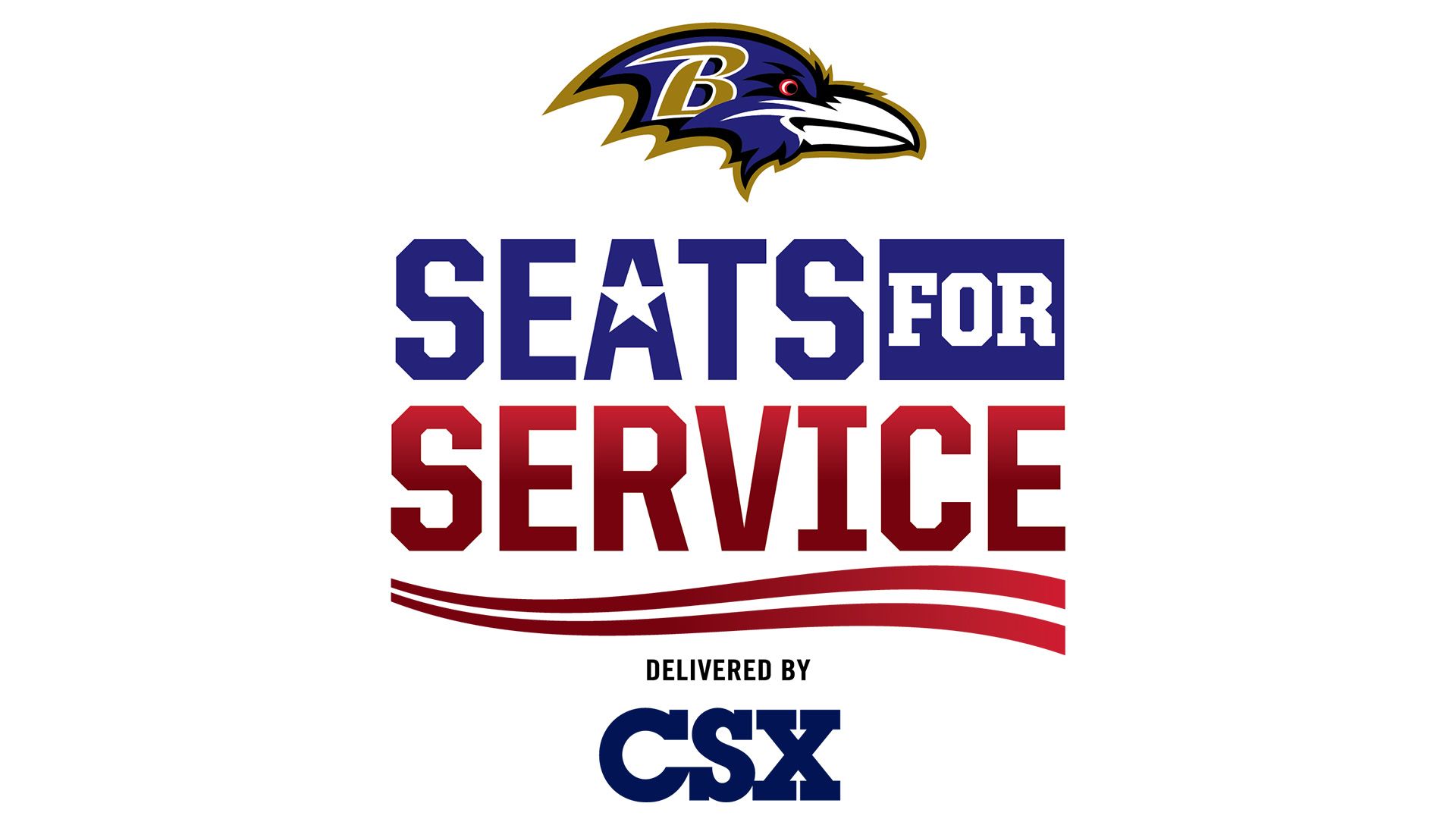 The Baltimore Ravens have a long standing tradition of supporting the military and those who serve our country. This season, the Ravens and CSX are proud to host our country's service men & women at each home game through the Seats for Service program. Each week, the Ravens will honor a group including, but not limited to the following groups: (5) branches of military, first responders, veterans, wounded warriors, T.A.P.S., USO-Metro and local community heroes. The group will receive a pregame field visit and tickets to the game in six seats.
Ravens High School Coach of the Week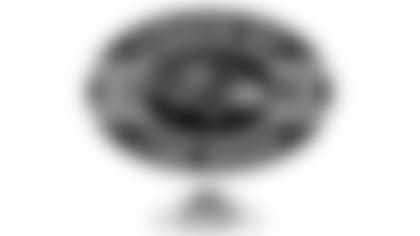 2021 Baltimore Ravens Coach of the Week
For 10 weeks during the regular season, the Ravens will honor a high school coach who has made a significant impact on his student-athletes. This award is in its 25th year of existence.
All 10 Coach of the Week winners receive a $2,000 donation to their school's football program and will attend the Ravens-Rams game at M&T Bank Stadium on Jan. 2 for an opportunity to be named the Ravens High School Coach of the Year.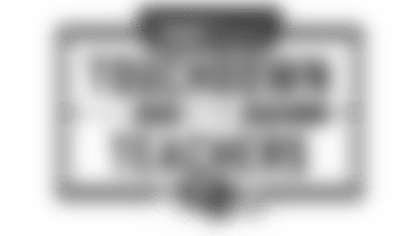 Do you know a teacher who goes above and beyond? The Baltimore Ravens Touchdown for Teachers program™, presented by M&T Bank, recognizes local teachers for outstanding service to their schools and communities. Three finalists will be selected by a panel of community members, the Ravens and M&T Bank. One teacher will receive a $5,000 grant for their school, a school visit by a Ravens player, Poe and Cheerleaders, and a Ravens jersey.
The top 3 teachers will be chosen based on one or more of the following criteria:
Amount of involvement in the school and/or community (ex: volunteering, coaching, after school programs, etc.)
Degree of positive impact on the school and/or community
Demonstrates a strong commitment to education in the school and/or community
2022 Touchdown for Teachers Finalists:
Shayla Proctor – Deep Run Elementary School (grand prize winner)
Carolyn Plitt – Arundel High School
Amy McDade – Joann Leleck Elementary School
Leading and Inspiring Females to Thrive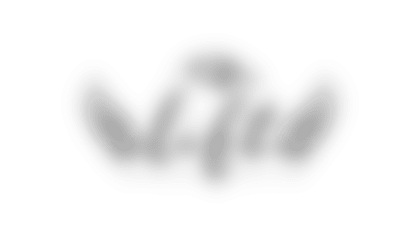 Annually, the Baltimore Ravens host local high-school-aged female athletes to the Under Armour Performance Center for the Leading and Inspiring Females to Thrive (L.I.F.T.) Conference. The day-long leadership conference invites Sophomore-and-Junior-aged student athletes to participate a day full of workshops, led by Spark, Inc., guest speakers and a group workout at the Ravens' facility. For more information, please click the link below.
Baltimore Ravens Scholarship Program
Five (5) $5,000 scholarships (renewable)
The Baltimore Ravens established this scholarship program to enable local youth to continue their education on a collegiate level. The team has a long-standing history of service to local communities, and this fund will support those who do the same. In addition, this renewable scholarship will be based on financial need and academic achievement. The $5,000 scholarship is renewable, and open to high school seniors who attend Baltimore City, Baltimore County or Carroll County public high schools. Applicants must also be U.S. citizens or permanent residents.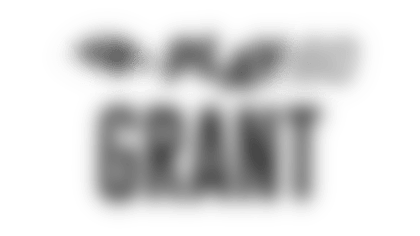 Through the Ravens Foundation, $100,000 is granted to Baltimore area non-profit organizations with programs that support and encourage physical fitness and/or nutrition education amongst the youth. The 2022 PLAY 60 Grant helped fund a variety of projects, such as interscholastic athletic programs for students with disabilities, cooking and nutrition education, boxing training and after-school mentorship programs.
2022 Ravens PLAY 60 Grant Recipients
Girls on the Run of the Greater Chesapeake
Friends of Great Kids Farm
Mt. Washington Pediatric Hospital
Peace Players International
Soccer Without Borders
The Agoge Project
Heroes Helping Heroes
Freedom Hills Therapeutic Riding Program
MissionFit Inc.
Muse 360/ Rayn Fall Dance Studio
TasteWise Kids
Baltimore Urban Baseball Association
NORTHWOOD BASEBALL LEAGUE, LLC
Baltimore SquashWise
Girls on the Run of Central Maryland, Inc.
League of Dreams
Cool Kids Campaign Foundation, Inc.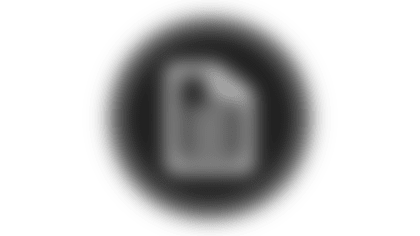 April 3rd – June 2nd, 2023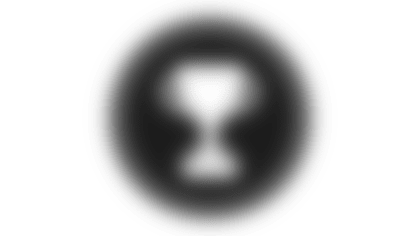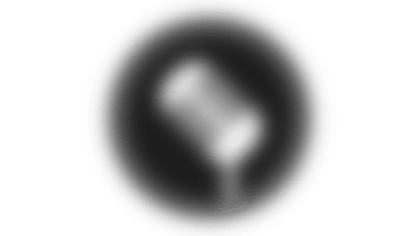 Week of July 24th, 2023
Ravens Foundation Grant Awards Announcement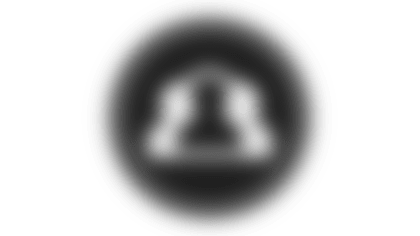 August 1th – June 30th, 2024