Remember watching Lamar Jackson dance around L.A. Memorial Coliseum during the 45-6 Monday Night Football thrashing of the Rams in 2019?
The images of his five touchdown passes that night is fuzzy, but the dances, side-by-side with friend Marquise "Hollywood" Brown, back to the Ravens sideline following score after score are crystal clear.
That was peak Jackson – having fun, enjoying the fans, his teammates, and the spotlight.
The Ravens are playing their first game back in front of fans in a long, long time Saturday night at M&T Bank Stadium. It's a preseason game, so this will pale in comparison to what the Kansas City Chiefs will see on Monday Night Football in Week 2, but it will be a reminder of how much the Ravens are boosted by their fans.
Every player in the NFL wants fans in the stands. Last year sucked across the board. It just wasn't as much fun when big plays were met only by the faint cheers of your own sideline.
"To me, the worst part [of last year] was not having fans," veteran defensive end Derek Wolfe said last week. "[Former head coach] John Fox used to tell me, 'You get paid to practice, and the game is for fun.' So, it just felt like I was in a full-time practice."
I believe the Ravens will benefit more than most teams from the return of fans.
The Ravens are a team full of young superstars, none bigger than Jackson. There are many reasons why Jackson is a special player, but the energy he plays with – the sheer joy he seems to have in games – has to be near the top of the list.
When Jackson is having fun, he's at his best. And it was clear last year that Jackson was not having as much fun. He even said so in an appearance on "The Lounge" podcast before the start of training camp.
"We were mad when we scored. We were like, 'We were supposed to do that,'" Jackson said. "We need to have fun with it! We need to be like, 'C'mon man, they can't mess with us!' That was our mindset in 2019. We've got to beat them up on the field, beat them up on the scoreboard, do our dance. Last year, we weren't doing that. We've got to get back to that, having fun with it."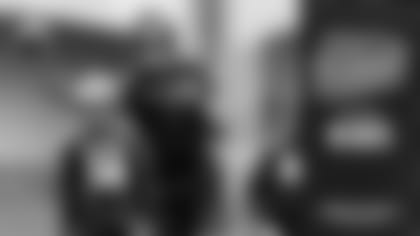 305: Lamar Jackson Joins The Lounge
Lamar Jackson talks about his contract situation, ongoing criticism, outlook for the passing attack, Super Bowl expectations and more as training camp kicks off.
A big part of having fun, at least for Jackson, is being able to revel in it with the fans. The guy is a highlight-reel performer and he knows it. Jackson said he's "fired up to see the fans probably more than anything." He feeds off them.
It's not just Jackson. J.K. Dobbins was electric as a rookie, but he's going to get even more juice hearing a packed M&T Bank Stadium for the first time. Mark Andrews plays with a "Salt Bae" swagger that gets saltier with the roar of the fans. There are many other players who seem to thrive amidst the din.
It won't be quantifiable, but I expect that this young, talented offense will get some of its groove back this year not just because the passing game has been boosted.
On defense, the noise of a packed M&T Bank Stadium will make communication more challenging, though the same applies to the opposing offense. With a fanbase that thumps its chest when the defense takes the field, Baltimore stands to benefit from that energy more than many other cities.
Every team across is talking about their joy to have fans back in the stands. But we all know – and they all know – Baltimore has one of the best home-field advantages in the league. This year, the Ravens get to actually use it.
Ravens fans won't be at a 10 for Saturday's preseason game, but this is the opening act.